What Memory Card should I use? (AcornTrail ACNSTD)
Please make sure you are using a standard SD / SDHC memory card (class 4) and NOT an Ultra or Extreme card (above class 4). The memory card should not have printing with the word "Ultra", or "Extreme", or 'C' symbol with 10 in it or 'U' symbol with 1 or 3 in it.

The size compatibility is 8GB - 32GB.
If you use an ultra memory card it will not recognize it, or it may record one or two videos but not beyond that point. In any case it does not damage the memory or the camera system.
Please see some guidelines on what to look out for (circled in yellow) in buying SDHC memory card.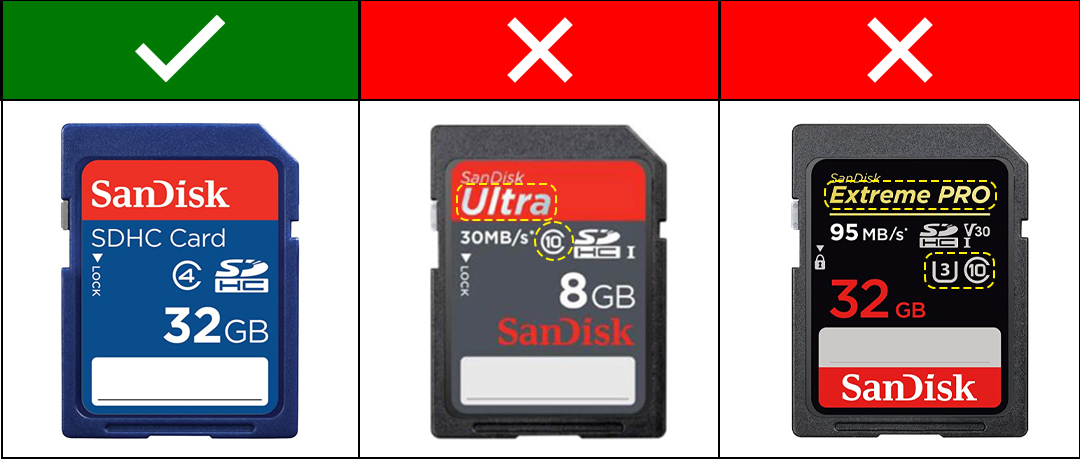 Related Articles

What Memory Card should I use? (LiteHD DVRHDSTK)

Please make sure you are using a standard microSD/microSDHC memory card (class 4) and NOT an Ultra card (above class 4). The memory card should not have printing with the word "Ultra" or 'C' symbol with 10 in it or 'U' symbol with 1 or 3 in it. The ...

What Memory Card should I use? (iSee SUNSPY)

Please make sure you are using a standard microSD/microSDHC memory card (class 4) and NOT an Ultra card (above class 4). The memory card should not have printing with the word "Ultra" or 'C' symbol with 10 in it or 'U' symbol with 1 or 3 in it. The ...

What Memory Card should I use? (SpyDrive UDVC)

Please make sure you are using a standard microSD/microSDHC memory card (class 4) and NOT an Ultra card (above class 4). The memory card should not have printing with the word "Ultra" or 'C' symbol with 10 in it or 'U' symbol with 1 or 3 in it. The ...

What are the supported file system formats? (AcornTrail ACNSTD)

If the device uses an SD card larger than 2GB, the supported file system format is FAT32. When formatting using windows, this is typically the default in the Microsoft Windows format utility. You should not have to make any changes when formatting ...

Do you have an online Users Guide? (AcornTrail ACNSTD)

Yes, Please have a look at it here: https://www.electroflip.com/UserGuides/AcornTrail.pdf